Stall Board
$650/month
Includes: Up to 5lbs of Feed(2x daily), Grass Hay, Turn Out-weather permitting, Blanketing-when necessary, stall cleaning with shavings
---
Pasture Board
$450/month
Includes: Up to 5lbs of Feed(2x daily)
*If a stall is wanted or needed while pasture boarding there is an additional charge of $8/night
---
Additional Charges
Alfalfa Hay – $75/month
Extra Grain- Over 5lbs of grain- .40/lb
Worming – $10/dose
Medicated Baths – $10/bath
Leg Wrapping – up to 4 legs – $10/wrap
Cold Hosing-up to 30 minutes – $10/session
Wound Care – $10/day
Supplements-  2nd Dose (P.M.) – $5/day
Medicine Dispense – $2.50/dose

Supplements may be given at no additional charge only if they are in SmartPaks. Supplements are only given during morning feeding. Supplements given during evening feeding would be an additional $5/day.  Owners are responsible for maintaining current supply.
LEC feeds quality Purina feeds. Should you choose to feed anything different than what we offer, it is at your expense. There will be no reduction in board fees.
Facility Rental Fees

The Lagniappe Equestrian Center facility is available for horse show rentals and offers three arenas, cross country course, clubhouse, cabins, camper hookups and a 168 stall show barn.
---
Fenced Riding Arenas

1 Large Outdoor Ring – 310×140
1 Medium Outdoor Ring – 200×140
1 Covered Indoor ring – 120×90
A full course of jumps are available in the large outdoor ring at all time.  Simple schooling jumps are available in the indoor.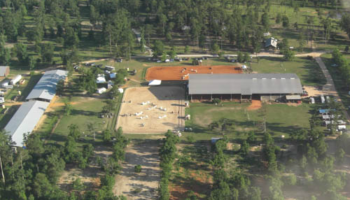 The Main Barn
22 (12×12 and 12×14) stalls
6 cross tie areas
Covered wash rack (with hot water)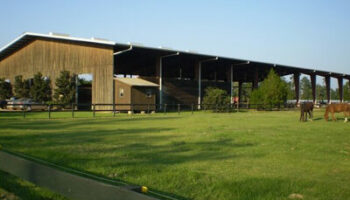 ---
Visitor daily fees (Please call for facility availability )
• Ring Fee: $20, Per horse, per rider
• Cross country schooling fee: $25, Per horse, per rider
---
Visitor Rules
• No riding without a helmet
• No jumping without an instructor
---
Horse Show Facilities
•  1 Arena: $175/day
•  2 Arenas plus 1 Area*: $300/day
•  3 Arenas plus 2 Areas*: $375/day
•  Each additional Area*: $50/day
•  Trails/Cross Country Course: $175/day
•  Jump Rental: $150/day
•  Watering: $50/Truck
•  PA System: $50/day
•  Sunday Worker: $15/Hour (Min. 4 Hours)
*Area = Flat (Grass) or Working/Warm-up Area or Fenced Lounging Area
*Covered Arena Dimensions: 120' x 90'
*White Ring (#1) Dimensions: 280' x 150'
*Red Ring (#2) Dimensions: 270' x 120'
Any equipment, such as a drag for the rings, must be operated by a LEC employee. LEC Employees are included on Saturday and arrangements can be made for Sunday events. Facilities can help you with acquiring shavings, workers and photographers.
---
Stalls
•  Stall First Night: $20
•  Each Additional Night: $15
Shavings are not provided in stall price. There are 168 wood slatted stalls with open doors. Any stalls may be enclosed with the use of your own material. Any material left behind, becomes property of LEC 5 days after event is completed.
---
Club House
•  First Day w/Kitchen: $150
•  Each Additional Day: $75
•  With out Kitchen access: $50/day Includes the use of the bathrooms.
Please leave clubhouse, kitchen & bathrooms neat. NO FRYING IN KITCHEN!!! Fryers may be set up outside.
---
Vendor/Camper Hookups
Initial Hookup: $25
Each Additional Day: $25
•  Vender/Campers can come in early and leave after the event at no extra charge as long as they are not plugged in.
•  There are 3 vender hook ups (2 small size & 1 large plug hookups).
•  There are 8 camper hookups (6 small size & 2 large plug hookups.
•  Water hookup is available upon request.
---
Cabins
Per Night: $75
*Please do not leave your dogs in the cabins all day. We do not mind if they are in kennels inside the cabin; however, the cabins are not kennels themselves. Thank you for understanding & helping us keep the cabins clean after your stay.
---
ALL RENTERS MUST PROVIDE:
1. Proof of Insurance
2. Negative Coggins test for each horse brought to facilities. Regardless if participating in show/event. NO EXCEPTIONS!
3. Signed Rental Agreement.